For the past couple of years, around this time of year, I have tried my hand at writing a non-technical thing that has some measure of seasonal appropriateness, like the post last year about snow crystals. So, this post is my effort at that this year and will be totally not about engineering. So, if you are follower that finds my occasional forays into non technical topics to be annoying, you probably should stop reading this right about here. But, if you are starting to feel "the holiday spirit", you may enjoy what follows.
My parents really enjoyed Christmas and when I was little, they made it pretty magical, especially my Mom who did a lot of decorating and baking around the holiday. One of the traditions was that Dad would always get Mom a copy of the Christmas Ideals magazine. The magazine was more like a book than not and had color pictures, poetry, stories and a generally nostalgic air to it. It turns out they are still being published and the link above will give you a sense of what they were like.
As near as I can tell, in 1958 (when I was about 4 years old), Ideals published a book titled Jolly Old Santa Clause. I found this image of the original title page on an Esty site called Tinsel and Trinkets.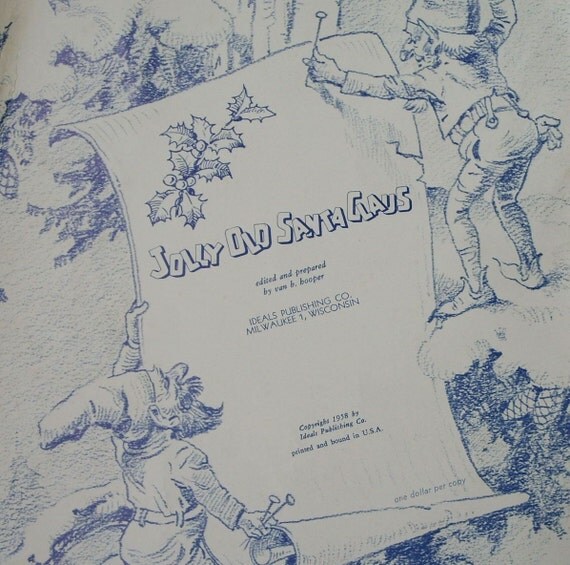 The book told the story of the days leading up to and through Christmas Eve as seen by Sparkie, one of the elves at the North Pole and had these really detailed, wonderful pictures by an artist named George Hinke. When I looked at them, I just knew that is what it must look like up at the North Pole right about this time of year.
So, I have a lot of pleasant memories of being snuggled up with my Mom and brother reading this book (probably a lot) during the weeks and days leading up to Christmas with Christmas music playing in the background and the smell of pine in the air from the garlands my Mom decorated with and the candles she burned at that time of year.
On the musical side of things, the one album that sticks out was called Twas the Night Before Christmas by Fred Waring and the Pennsylvanians.
It was this eclectic mix of secular and sacred holiday music sung by a vocal choral. My favorites, being 4 or 5 at the time, were Twas the Night Before Christmas and Rudolph the Red Nosed Reindeer, which were the perfect songs to accompany the reading of Jolly Old Santa Clause.
I especially liked Rudolph the Red Nosed Reindeer, which, in the second chorus adds all kinds of silly sound effects to the song that still make me smile (as they did my Grandson, when I played it just now) . (The links take you to sound clips from the songs to give you a sense of them if you want).
As I grew older, of course, the number of times I found myself snuggled up with Mom reading the book declined. But frequently, around this time of year, I found myself remembering them and Jolly Old Santa Claus in particular. So, on trips home, I would often dig around for a bit trying to find the copy of the magazine, and was always disappointed because it seemed to have disappeared.
The good news is that in 1996, someone republished the book and copies of it were all over the place. So I happily bought one for myself and one for Mom, giving it to her as a Christmas present in honor of the happy Christmas memories she and Dad created for me as a kid. Now, I have bought copies for all of my grandkids (and maybe in hindsight, twice for Piper and Arabella; what can I say; I'm getting old). Hopefully, they are creating a few happy holiday memories for them.
So, I thought for my holiday post this year, it would be fun to scan some of the images and share them here. The first was one of my favorites because it reminded me of my Mom and all of the Christmas cookies she baked.
We had this tradition of having a "cookie tree" which was this little artificial tree that we set up someplace and decorated cookies that Mom had made. When one of our friends came over to play, they got to take a cookie home with them.
These cookies were no ordinary cookies thought. Each one was a little work of art. They were all decorated with colored sugar, but when I say that, I don't mean that the snowman, for instance, hand white sugar crystals all over it. Rather, the snow balls on the snowman had white sugar, the scarf had red or green sugar, the hat had blue sugar and there were little brown dots –the tip of a clove I think – that made the eyes, nose, smile, and buttons down the front of the snowman.
There were cookies shaped like snowmen, stockings, Santas (with rosy cheeks), Christmas Stars, Trumpets and Drums (after the little drummer boy), and Christmas Trees. Each one was individually decorated and then wrapped in cellophane with ribbon tying the cellophane in place and making a loop to hang it on the tree.
After Mom passed, when Kathy and I were helping my brother sort through the stuff in her house, we found a tray of them in the freezer, which made me happy because Kathy, who is an artist, had never seen them and really appreciated what it took to make them. Mom would have appreciated that because she and Kathy became pretty close. Like, I learned stuff about Mom from Kathy because Mom had told her about it (vs. Mom telling me; not an problem, just saying she came to love and trust Kathy a lot).
This next picture was another favorite because for our family, heading out to find and cut down our own Christmas tree out in the Pennsylvania woods was another tradition; sort of a sane version of one of the opening scenes in Christmas Vacation.
The tree was set up by the family on Christmas Eve right before we went to church. Magically, the next morning, we rushed down stairs to find it beautifully decorated by Santa and his elves while we slept. At the time, I was sure most of our ornaments had originated in a scene like this (and still think that may be the case).
When I was a bit older and snuck down the stairs one Christmas Eve, I even saw "Mommy kissing Santa Clause", which is one of my more romantic memories of Mom and Dad.
The tree decorations were another one of my Mom's works of art. Each year, we had this tradition of buying a special ornament for my brother and I. That was started by my Grandparents, who typically sent us a special ornament each year. I still have this little glass clown (I'm not afraid of clowns) that is as old as I am and plastic stars (back when plastic was a scientific break-through) that had a little spinning propeller in them that spun in the thermal created by a Christmas Tree light if you hung them over the lights.
So part of the tradition when I was younger was that we would hang our special ornaments after we set up the tree; the rest of the decorating happened over night, as I mentioned above.
When I was older and saw my Mom decorate the tree, I discovered that each individual ice cycle was placed by hand. Back then, icicles were strips of shiny stuff (originally lead which could explain a few things about me, and later on acetate) that were about 1/16" wide and maybe 18 –24 inches long. So hanging each one individually (and retrieving them for use the following year) was a pretty painstaking process. But the result was a really spectacular looking tree, at least to my childhood's and memories eye.
This next scene was one that tended to be emphasized by Mom when she was reading the story to us in the days leading up to Christmas.
In the original painting, if you look closely at the book where Santa is making his notes, you discover that it is a list of nice girls and boys and naughty girls and boys. My Mom's point at the time was that we should err on the side of "Nice" given that my brother and I were probably running around like "wild men" in our excitement (and sugar high).
The picture that follows is an example of one of the things that, to this day, I love about George Hinke's pictures; there is an incredible amount of detail to them, as can be seen in this one.
Clearly, its the day after Christmas, and the reindeer are being groomed and bedded down after their long night's work, not the day before, as can be seen from the date on the calendar.
And then, there is (at least for me), the primary thing you focus on when you look at the picture, which (for me in this picture) is the sleigh and reindeer. But if you look closely, you see all sorts of other things going on, like the elves polishing bells and lanterns and feeding the reindeer who are already in their stalls (with their names over them, of course). I think you will notice the same sort of thing in the other pictures I have shared.
This final picture is the closing picture in the book, and, to my mind, when Mom was finishing the book, was exactly what it would look like on the roof of our house on Christmas Eve.
So, with that, I will leave you to the holiday and wish everyone a happy holiday season. And thanks, as always, for visiting the blog.
David Sellers
Senior Engineer – Facility Dynamics Engineering